Noral Baughman and Lois Berkshire have been chosen valedictorian and salutatorian, respectively, of the Senior class of Tyner High School, according to Principal, Claude V. York.
Noral is the son of Mr. and Mrs. Russell Baughman, Tyner. He has held active offices each year in the Junior and Senior Hi-Y and on the Student Council. In his senior year he has been president of both organizations. He was appointed class reporter several times and took leading parts in both junior and senior plays.
His class chose him as treasurer in the junior year. Other activities in which he has participated are basketball and membership on the vegetable identification team and the entomology team.
Mr. Baughman plans to enter Purdue University this fall to study Electrical Engineering.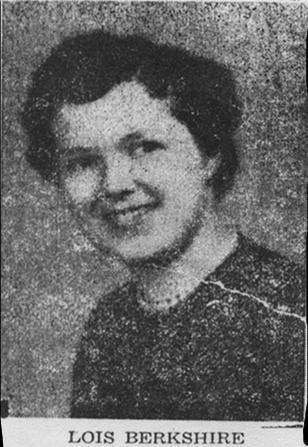 Lois is the daughter of Mr. and Mrs. Edgar Berkshire of Teegarden. She has been an honor student during all of her school years. She has been active in band and chorus. She also is a member of the school's octet which won first in the district and first at the state NISBOVA contest.
The Tyner Sunshne Society this year chose her as the president of their organization. During her senior year she has worked as student librarian. Lois is one of the Co-editors of the school's newspaper, the Tynerette.
In both her junior and senior years she took leading parts in their dramatic production. The National Good Home-Maker award was presented to her at an assembly this past winter. She also was chosen as the representative for the D.A.R. Goos Citizen Contest. She is a member of the Student Council. During her junior and senior years, Lois has been doing cadet teaching.
Miss Berkshire has a scholarship to Ashland College, Ohio, and will enroll there this fall, majoring in elementary education.